It's no secret that the world moves at a different pace than it did just 30 years ago. Horst Schulze, CEO of the Capella Hotel Group, says that in 1980 the average person could wait in a hotel lobby for 4 minutes before being assisted and still consider it good service. Today, that time has gone down to 17 seconds! For many businesses and logistics companies, the solution to this is the cross dock.
What is a Cross Dock?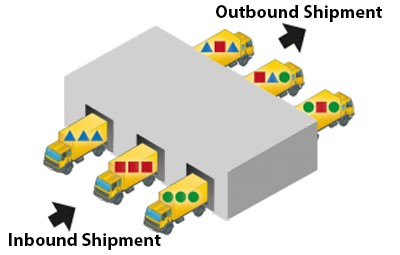 A cross dock exists to get products from point A to point B in less time. Generally, it acts as a point in the supply chain process where one business is outsourcing their movement of goods either to an end user or to another step in the process quickly and efficiently. Locations are essential for cross docks because they need to be near where products are to be shipped. Products using a cross dock are typically perishable, pre-tagged products, promotional items just being launched, low demand variance products, etc. Cross docking has many benefits like:
Time Saved — Instead of using multiple sources for warehousing and shipping, generally the best warehouses have a cross dock attached so expedited shipping can be handled under the same roof. Products go straight from one truck to the other, ending up at the destination faster.
Reduced Costs – Renting warehouse space long-term, paying for packing & labeling, and other warehousing services is a great option for many, but sometimes companies can skip this process and simply ship straight to the cross-dock. This can greatly reduce labor costs.
Reduced Risks – The less people that need to be involved, the greater the chances for success. How many times has a shipping company lost your package at one center or the other after going from stop to stop?
Reduced Pollution – Cross docking helps consolidate multiple Less than Truckload (LTL) shipments into one larger shipment going to the same area so as to increase efficiency and decrease the number of trucks needed.
Types of Cross Docking
There are several types of cross docking available depending on what businesses need.
Retail Cross Docking for receiving products from multiple vendors and shipping them out to individual retail stores (think Wal-Mart or Kohl's).
Manufacturing Cross Docking where companies ship different parts to a different manufacturing facility for assembly (think parts for a vehicle)
Distributor Cross Docking involves the consolidation of products from vendors into one shipment for a customer
Transportation Cross Docking is when multiple LTL shipments are consolidated to increase economies of scale
Opportunistic Cross Docking is for transferring inbound shipments straight to outbound
Types of Cross Docking
Scheduling conflicts can cause issues if a cross dock is particularly busy and any particular shipment has been delayed. Another issue may arise when one mode of transportation is meeting another (truck to airplane etc). The quick nature of a cross dock can also cause a particular carrier to run out of assets to utilize.
Make sure your cross docking warehouse has assets to help, is in a great location near your frequent shipping areas, and that they have the ability to accommodate any type of load (reefer, step deck, etc.). And finally, make sure your cross docking warehouse will treat you like you are their only customer. There are way too many variables in the shipping world for your business to waste time putting out fires.